Belarussian ministry grants permission to print leaflet
July 14, 2013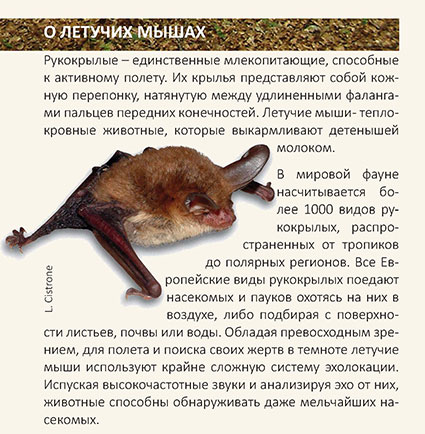 As a follow-up of the workshop about bat research and conservation in Belarus in 2012 Aliaksei Shpak of the Zoological Institute in Minsk translated the leaflet about bats and forest of EUROBATS in Belarussian. But, before printing and disseminating this leaflet in Belarus you need permission of the Belarussian authorities. It took some time, but with the help of our partner APB BirdLife Belarus we got the permission. The printing can start.
The leaflet will be disseminated among biologists and foresters and of course among institutes and authorities concerned with forestry and nature. The Belarussian Ministry of nature will also place the leaflet on their website.
This is just a small leaflet (A4, double-sided) that puts the attention on bats and forest management. Next to this one we work on a brochure that covers bat friendly forest management more extensively. The Dutch Bat Working Group made a very good brochure about this subject. It is now in Belarus to be translated and adapted to the local situation. We hope to publish it later this year.
We like to thank UNEP/EUROBATS for their financial support for the production of the leaflet.
Project: