Strong increase continues
February 26, 2016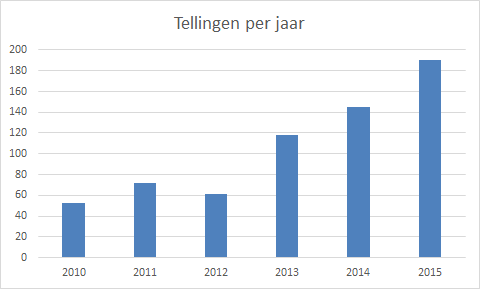 The first Songthrushes and Chiffchaffs are heard singing again. Spring is approaching. Time to make plans for the coming bird counts in Southeastern Europe. Last year many people carried out bird counts, more than the year before. The number of point counts in Bulgaria and neighbouring countries increases since the start of the counts in 2010 (see the figure; source pc.trektellen.nl). A trend that hopefully continues in 2016. That is why we make a lot of promotion for these counts during presentations for birding groups and at bird fairs. This does have result. Several Dutch birding groups promised to carry out point counts during their birding travels in Bulgaria, Greece and/or Macedonia this spring. You can help too by joining our bird count travels or to inform your friends, family members or colleagues about this project.
No time to count but you, your friends or colleagues do visit Southeastern Europe this spring, then please send your sightings of birds at least to www.observation.org. If you mention also the behaviour of the bird (singing, feeding nestlings, flying over etc.) than this sighting can be used for the new European Breeding Bird Atlas. To indicate where in Europe a bird species breeds just a sighting of it is not enough, an indication of its connection with the area is needed and also about its status there (breeding or just passing by). Also for the local bird conservation groups sightings with information about the birds behaviour are more valuable .
By the way, the number of observations uploaded to Observation.org are also increasing every year (see the figure below).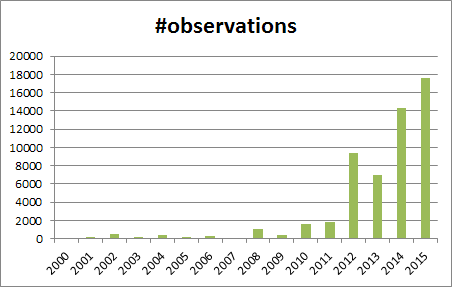 However, we prefer that you carry out standardised counts, because this makes comparisons in density between areas possible, as in the example of the Sardinian warbler shown below. In this figure you see also red dots in Southeastern Europe and Turkey. These dots are modelled; thus not based on real data like the green dots. For the new atlas, maps based on real data are preferred. That is why all sightings and counts are welcome, also of more common birds than the Sardinian warbler. Hence, count birds and send us your sightings when you are in the region.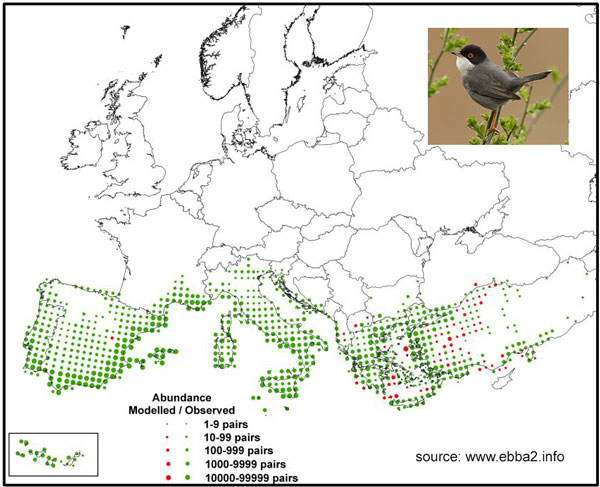 Project: